Description of Project: 25,150 SF, 2-story addition to the existing Parker at Monroe Senior Living Facility.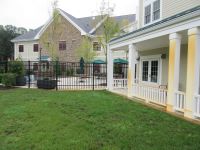 Mechanical Design: 
Gas-fired roof top systems with VAV for common areas.
Gas-fired, DX energy recovery units / dedicated outside air systems.
Vertical heat pump HVAC units for individual rooms, to extend the existing heat pump loop system in the building.
Design also included an upgraded Carrier I-VU open protocol control system for the various spaces and equipment.
Electrical Design: 
New power distribution systems to support the addition, including life safety and optional standby design for new HVAC, lighting and selected systems to be wired into the existing backup generator.
New LED high efficiency lighting with digital lighting controls and dimming for scene selection.
New fire alarm system design for the addition, including carbon monoxide detection systems integrated into the fire alarm system.
New data, telephone and CATV system for the addition.
Extension of the existing Nurse Call system for the addition.
Extension of the existing Memory Care wander management system for the addition.
Card access systems, IP cameras and security upgrades for the addition.
MDP main replacement with electrically operated breakers to allow for full generator backup of the entire facility, including temporary construction phasing and sequencing.
Plumbing Design: 
Automatic flush plumbing fixtures, low-flow plumbing fixtures, high efficiency water heater, sanitary/waste/vent plumbing, gas piping design to new RTU's and domestic plumbing systems.
Fire Protection Design: 
Extension of the existing sprinkler system to include the fully sprinklered new addition that is compliant with NFPA 13 for health care occupancies.