Germantown Historic Meetinghouse and Apts
Johnson House
Client / Owner: Germantown Historic Trust, Philadelphia, PA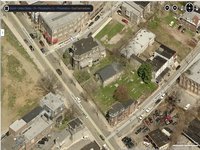 6117, 6133 and 6135 Germantown Ave:
6117 Germantown Ave:
Upgrading of the HVAC systems.
New electrical service.
Installation of a complete fire protection system.
Installation of replacement windows.
6133 and 6135 Germantown Ave:
Installation of new gas service.
Replacement of the dual building heating system single oil-fired boiler with (6) gas-fired condensing boilers. The installation of the boiler air exhaust and intake was reviewed and approved by the Philadelphia Historical Commission.