CAB 7th Floor Renovation Project
Rutgers University New Brunswick, NJ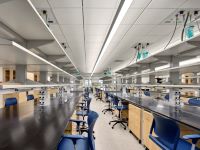 Role / Scope:
The scope of the project was to completely demolish and renovate the 7th floor of the CAB building for bio-medical research activities. Approximately 1/3 of the floor is being dedicated to administrative offices, conference rooms and tech areas for graduate and post-graduate students and researchers. The other 2/3 of the floor is dedicated to new, state-of-the art open labs with support spaces.
Mechanical Scope:
Replacement of the existing roof top evaporative chiller with a new air-cooled chiller and pump package with glycol.
Installation of new roof top air handling units and VAV systems for the administrative areas, including dehumidification systems.
Installation of a new roof top custom lab unit with heat recovery for the labs.
Design for new lab fume hoods, including a perchloric acid hood, Strobic exhaust fans and steam boiler system for glass wash facility.
Electrical Scope:
New power to the renovated floor, including emergency backup power for all open labs and support spaces, including the heating and cooling air handling systems.
New high efficiency LED lighting with dimmable lighting controls with vacancy sensors.
New voice evacuation fire alarm systems for the renovated floor.
New conduits and backboxes to accommodate the new data, telephone, CATV, security, AV and card access systems.
Plumbing Scope:
New reverse osmosis deionized water distribution system for the labs and for the steam boiler system to serve the glass wash facility.
New vacuum system for the open labs and support spaces.
New compressed air system.
New gas piping distribution for the open labs and support spaces.
New cold water, hot water, sanitary, storm and vent systems to coordinate with the new renovations.