Burlington County Courthouse and Child Advocacy Center
Mt Holly, NJ
Client / Owner: Burlington County, New Jersey
Prime Consultant: Spiezle Architectural Group, Inc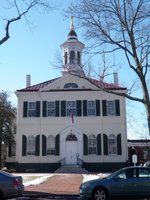 Oldest, active courthouse in the US, with the original building dating to 1796.
Full HVAC system replacement in entire building including new dehumidification system with energy recovery systems to maintain proper temperature and humidity in the building year-round.
New condensing style boilers with high efficiency pumps.
Remote, air-cooled chiller for all cooling systems.
Electrical emergency system upgrades, lighting fixture replacements and A/V system upgrades.
Remove and reinstall sprinkler systems to accommodate new HVAC systems.