Client/Owner: State of New Jersey / Juvenile Justice Commission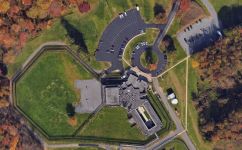 Scope: Adaptive re-use of the existing basement of the Juvenile Medium Security Facility (JMSF) building on the Johnstone campus to accommodate 12 new classrooms with state-of-the-art technology, new toilet rooms, secure/zoned corridors and a full backup diesel generator for the entire facility. Anti-ligature equipment and device design below 9'0".
Mechanical:
New VRF heat pump system with outside DOAS unit for mechanical ventilation air.
Individualized temperature controls for each space.
New heating piping above the basement space for minimal future maintenance.
New web-based HVAC DDC control system – a Tridium based JACE system.
Electrical:
New high efficiency LED lighting systems with automatic lighting controls, including dimming.
New power for all new spaces.
New low-voltage electrical systems:  Fire alarm, data, telephone, IP cameras, personnel distress units and wireless access points. 
New 450kW full-backup diesel generator with bypass isolation automatic transfer switch and temporary generator quick-connect switchboard setup. 
Plumbing:
New unisex toilet rooms for residents and staff to comply with both ADA and the PREA requirements for the JJC.
Sump pumps for under-slab water level mitigation.
New grease interceptor for the main kitchen.
Fire Protection:
New full pre-action sprinkler system with Tyco Raven tamper proof heads for all spaces.